Perhaps only very few people know that Pham Thi Mai Son is the one who has brought more than 20 world-famous fashion brands such as Coach, Puma, Charles & Keith, Pedro, Marhen J, Max Mara, and Pinko, etc… to Vietnam over the past 20 years. From being a well-dressed flight attendant who flew around the world, CEO Mai Son decided to give up that stable job to embark on her own pioneering fashion business.
Meeting businesswoman Pham Thi Mai Son on a beautiful sunny afternoon in Saigon, perhaps no one can guess her real age. Her slender, luxurious physique and attractive fashion taste make it easy to confuse CEO Mai Son with an A-list celeb. A "steel rose" with a strong personality, sharp business thinking and an overarching vision – who has built a branded fashion empire in Vietnam, she has a vision: "I want Vietnamese women to be more and more beautiful!"
BUILD HER OWN EMPIRE FROM A WOMAN'S INSTINCT: "TO BE BEAUTIFUL"
Q: As a flight attendant, you are able to travel with high income. So what made you give up your dream job to embark on a business – especially the fashion business – which was quite a new field in the 2000s?
I loved my job as a flight attendant because it gave me a chance to fly around and see the world. However, one day, I suddenly felt that this job was too restrictive in terms of time, the income was not very convincing, because my needs for life were higher. So I knew that I needed to stop to take a better turn.
With the encouragement and support from my ex-husband, I quit the job at the airport and took classes on securities. Then, after rearranging the knowledge that I had learned, I continued to sit back and think about what I should do next. Once, while shopping, I suddenly realized that the garment process for Vietnamese women was still quite complex. To have a nice suit to wear, women shoppers had to go to buy fabric, each purchase consisting of 5-7 pieces, then they needed to go to the shop to sew 5-7 new dresses, and then they just needed to wait and pray. Of those garments, just 3-4 satisfactory garments are successful if they are very lucky. The others are usually just not good enough to wear outside. From there, I wondered why I didn't sell ready-to-wear clothes, because there were so many available all over the world.
"When I first started my business, I did not have any personal reputation in the business world, nor a career worthy of impressing these brands. So, I pursued them, and convinced them with my doggedness."
Q: It is known that the first brand that you chose to bring to Vietnam was Mango. Why Mango? And what memories do you have with that "first" time?
On a business trip to Singapore, I brought about $300 with me to go shopping, and when I entered the Mango store, I was able to choose and brought back two large bags. At that time, I felt extremely happy because I bought cheap but beautiful things. I felt that this brand was very suitable for Vietnamese people, both in terms of design, size, and price, so I approached Mango to ask for cooperation.
At the time, I was just an individual with no reputation and no glorious career to draw to impress the brand. I only had the "doggedness" to pursue them. So almost every day, I called Mango every week. Then, one fine day, Mango suddenly told me to go to Spain to discuss some form of cooperation. I bought a plane ticket and went to Barcelona. So far, I still feel that choosing to start with Mango was the right choice. It was a good premise for me to expand my business and reach many prestigious brands later.
"I love to see the numbers fluctuating in an upward direction. That is the greatest motivation for me to work  enthusiastically, overcome difficulties, and develop the business career."
Q: What difficulties did you face from working as a flight attendant to turning to business?
I had to learn a lot, from how to run a retail company in a fast-paced industry in a country that is very new to this concept like Vietnam. Then, learning to understand the market properly, giving the right direction to develop the business was required … I started the business purely with passion, then continued to expand my career, running it smoothly by learning and learning more.
I was trained directly by the brand; from how to arrange the warehouse room, to the science of retail. I learned how to display the store to catch the eye, how to use color schemes, and how to advise customers. At that time, I did everything myself, from the smallest things such as: opening the box when the goods returned to Vietnam, arranging them myself according to my own tricks, to color schemes, and even standing at the cashier… and so now that I'm in a higher position, I still handle and understand my business thoroughly.
Q: From the very first bumpy step, what gave CEO Mai Son the courage to overcome those hard days?
Seeing the revenue increase every day is a great motivation for me to work enthusiastically, not managing day and night. Every morning when I open my eyes, I love to see the numbers fluctuating in an upward direction. I am very fortunate to have been successful from the beginning. I remember, on the first day of opening, my store was very successful. After only a few hours of opening, I sold up to 12,000 – 13,000 USD of product. That number really shocked me.
The extremely positive reception of consumers has made me feel the intention to bring more brands to Vietnam, not only mainstream brands, but also the brands for the higher income class.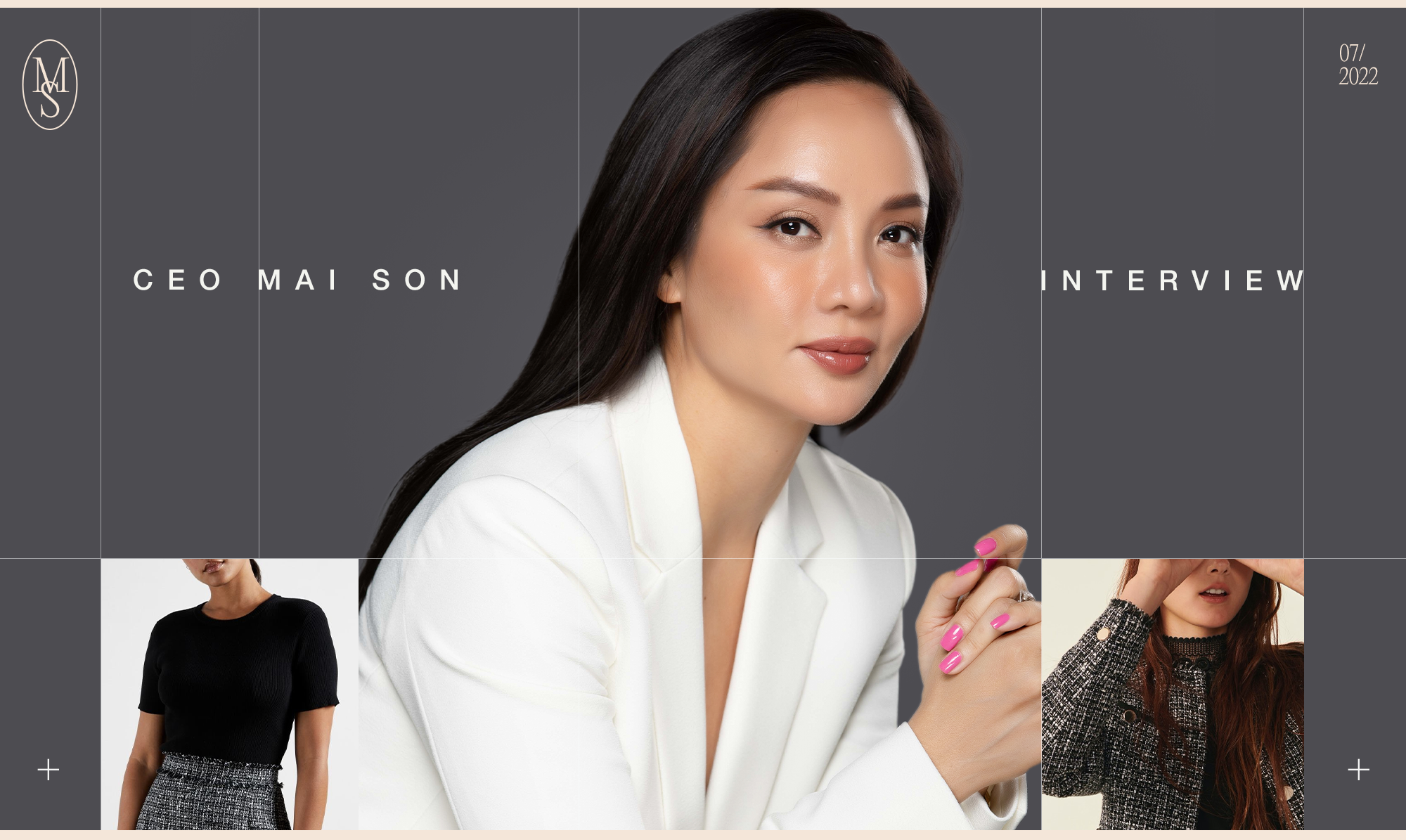 "THE BEST THING ABOUT ME IS KNOWING WHAT CUSTOMERS NEED TO SELL THAT RIGHT THING"
Q: Revenue is the driving force, so what makes a CEO Mai Son in management and operation?
That is the basis of my knowledge and understanding. My family has no business tradition. My parents are both teachers, since I was a child I only made friends with books. I was a truly poor child, so the knowledge in the book was the only thing I had. When I was growing up, I found that time was worth it. I was eager to learn, as I was always learning new things to find the right path for myself. Besides, I observe. As a corporate executive, I'm rarely in the office. I like roaming the streets, looking at people to identify new trends and tastes, thereby bringing back products that meet market needs.
If you have enough knowledge, observation and professionalism due to training and learning, you will have the bravery needed to run the work and convince your partner. That's what needs to be cultivated over time.
Q: What about talent in doing business? With the current Maison 's success, do you consider yourself "gifted" in doing business?
Yes. The best thing about me is knowing what customers need to sell that right thing. In the process of recruiting salespeople, I pay great attention to their talents. You only do well when you like it. Like having qualities, loving to trade, and communicating with customers, then you can become a good salesperson. Those qualities are either natural or innate, or they are absent, because it is difficult to train: training people and being trained is also very time consuming.
However, your gift or instinctive sense of "what to sell" only supports you in the early stages of your startup. Once you've built into a system that manages more than 1,000 people, every decision you make has to be based on calculations, analyzing customer data, and surveying the market in a specific and detailed way. Business success cannot be based on risk, but on science, and on calculation.
Q: When negotiating to bring world famous brands to Vietnam. Which partner makes you spend the most effort?
In fact, persuading a partner is not difficult. Because when you have a good foundation, a professional way of working, your partner will naturally want to cooperate with you. All the partners I've ever approached are very easy to accept working with me. However, the most difficult thing here is how to successfully operate that brand in the Vietnamese market. The problem that I have to solve is how to integrate the "West" with the "We", creating a stable and successful connection. This should be based on my own market understanding. Being born, growing up and breathing the Vietnamese atmosphere every day helps me understand the needs and tastes in our country, thereby bringing the right brands and the right development direction for each brand.
Q: As a pioneer of bringing ready-to-wear fashion of international famous brands to Vietnam – CEO Mai Son, it is clear that the competition is getting fiercer now. How do you evaluate the development trend of the current domestic market?
Competition is an integral part of any business career. But once there is competition, there will be development. Competition helps businesses and entrepreneurs wake up, realize their strengths, and create a foundation for the company… So, strong competition from other brands gives us the motivation to overcome difficulties, and to coordinate human resource training… to be ready to reach out to a broader market.
Maison's intention is to increase the number of stores, increase coverage in more provinces and cities. Not only in big cities such as Hanoi, Da Nang, and Ho Chi Minh City, but also expanding to Can Tho, and in places like Kien Giang. Currently, we have more than 100 stores across the country, the goal this year is to open 30 new stores.
Q: The market is a battlefield. As a businesswoman with 20 years of fighting in the market, have you ever shed tears?
No. I've never shed a tear in the market. I just cried on the first day I took my kids to school, just like any other mom. For me, the marketplace is a place where "cold head" is needed, alertness and emotional restraint.
Q: Fashion field – a field with many artistic properties. Do you consider yourself romantic or realistic?
I'm romantic, but in my own way. In business, I believe that I am very realistic. When you have to shoulder the livelihood of more than 1,000 employees, you will see how important your sanity and accurate judgment is. I may be extremely fond of a designer, but I wouldn't be faithful to them in the way that it's about putting every collection, every one of their designs on sale in Vietnam. I'm a businesswoman, not a collector, so I just pick what the market wants. If that designer doesn't meet the requirements, I will find another designer and of course I still love them. I can buy those unique designs for myself, but for business it has to be considered.
Q: As a modern woman with a busy business career and a strict schedule, how do you maintain a balance in life?
I see a lot of people talking about balance, the secret to keeping balance… But personally, I think the first balance has to come from your thoughts. Thinking must come first, then action. I usually get up early, spend 1.5 hours exercising, play with my kids, and then go to work. That's how I balance my life. Everyone will have their own secrets, but it all has to come from a spirit of wisdom.
Q: As a very successful senior in the fashion business, what advice do you have for Vietnamese startups?
Just do it boldly. If you want to gain more lessons, you must take action first. I noticed that the majority of startups failed because they were not prepared in terms of capital, experience, and awareness of the market. Most are based on ideas. But the idea is just a necessary condition, just the first thing that helps you get into a business. If you only do business based on ideas, you'll find yourself drowning very quickly.
Take the time to learn and research the market. Because in order to survive and grow, you must meet the long-term needs of customers. If you do not meet those, you will not have daily revenue, which is vital to maintaining any business.
Q: Thank you for the interesting conversation. We wish you (CEO Mai Son) and your business more and more development and achievements in the future.
—
The interview was conducted by Cafebiz on 20 July 2022, please feel free to refer to the original article here.
– Maison Corporation Communication Team –